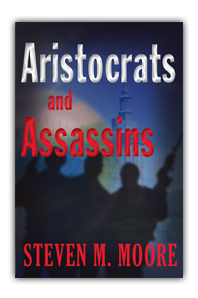 Please note that I don't provide links to the books here because most of these authors have other books.  You'll probably enjoy browsing through their entire opus. Moreover, while I've certainly read them all, I've reviewed only some of them, so don't be discouraged if you don't find my review.
Fiction Recommendations
David Baldacci, The Winner, Wish You Well, One Summer
Lee Child, Tripwire, The Enemy, Gone Tomorrow, The Affair
Michael Connelly, The Narrows, 9 Dragons
Jeffery Deaver, Garden of Beasts
Barry Eisler, Rain Fall, The Detachment
Ken Follett, Eye of the Needle
Dean Koontz, Odd Thomas, Odd Hours
Jack McDevitt, Omega, Odyssey
Preston & Child, Relic
Boston Teran, Gardens of Grief
Non-Fiction Recommendations
Jonathan Allen & Amie Parnes, Shattered
Thomas Cathcart & Daniel Klein, Plato and a Platypus Walk Into A Bar…
Henry Crumpton, The Art of Intelligence
David Crystal, The Stories of English
David E. Hoffman, The Billion Dollar Spy
Stephen Kinzer, Overthrow
Robert Kuttner, The Squandering of America
Michael Lewis, Flash Boys: A Wall Street Revolt
Charles C. Mann, 1491
Kevin Phillips, The American Theocracy
Charles P. Pierce, Idiot America: How Stupidity Became a Virtue in the Land of the Free
Bernie Sanders, Our Revolution
Geno Segre and Bettina Hoerlin, The Pope of Physics
Margot Lee Shetterly, Hidden Figures
Matt Taibbi, Griftopia: Bubble Machines, Vampire Squids, and the Long Con That Is Breaking America
Kurt Vonnegut, A Man Without a Country
Michael Waldman, The Second Amendment: A Biography
Paul L. Williams, The Al Qaeda Connection: International Terrorism, Organized Crime, and the Coming Apocalypse
Stealth Reads – Books by New and Promising Authors
Donna Carrick, The First Excellence
Cristiano Gentili, Then She Was Born
D. Fett & S. Langford, White Sleeper
A. J. Hartley, Tears of the Jaguar
Edgardo David Holzman, Malena
P. D. LaFleur, Mill Town
Sandra Parshall, The Heat of the Moon
Carolyn J. Rose, Hemlock Lake, Through a Yellow Wood, The Devil's Tombstone
Other Authors' Websites
There are many good books and authors.  I include here some websites belonging to authors where email or blog interchanges have enhanced my writing life.