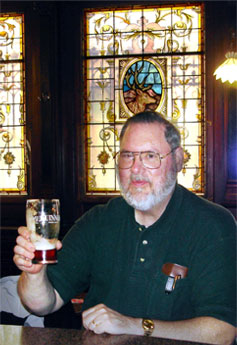 Steve in Ireland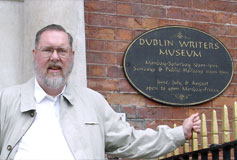 Steve at Dublin Writers Museum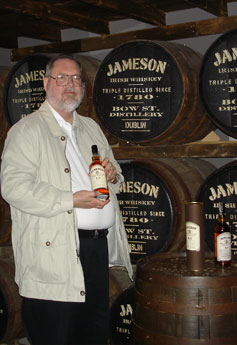 Steve at Jameson Factory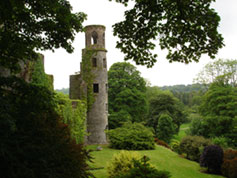 Blarney Castle, Ireland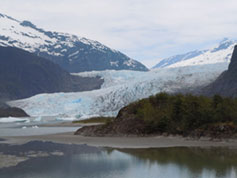 Mendenhall Glacier, Alaska
The Short Version
Dear Reader,
My writing goal is to entertain you with my stories. I've been writing for years, but ignore the gray beard–I'm young-at-heart. No one has seen what I write until recently, though, so you're in luck–it's all fresh and new. Be entertained. If you love mysteries, thrillers, and sci-fi as much as I do, you'll feel at home here.
Some say I have a varied and interesting past, but I'm just a nerdy author and otherwise regular guy living in New Jersey. You can get to know me more by reading further, or by reading my books. They reflect some of my lifetime of collecting what-ifs, plot ideas, character sketches, and possible settings that often correspond to my living and traveling abroad and meeting different people and experiencing their cultures.
In libris libertas!
Warm regards,
Steve
Best advice for readers: Read, read, read.  I'm toasting you with that Guinness! Readers rule.
Help your favorite authors: (1) Buy their books.  Many indie writers use the same business model I do.  (I've been doing this long enough that maybe I invented it.)  That means "crowd funding" for their next books, and you can help create the crowd.  And, if your favorite authors are traditionally published (I'm a mongrel now, having done both), this is all still valid. Authors and publishers are encouraged to publish more books when people buy them. (2) Review their books.  A simple review saying what you like and dislike about a book and why helps both readers and the author. (3) I don't use Twitter, but no author minds if you shout out your love for one of her or his books. And follow them and share on social media. The internet is the modern version of word-of-mouth advertising.  Create an internet avalanche for your favorite author–maybe on Goodreads? (4) Recommend them to friends and family. That might be via the internet too, but your word-of-mouth means more to them. (5) Offer to help.  An East Coast author can't donate books to a public library on the West Coast, for example, and national and international exposure helps that author.  With these actions, your favorite author can keep producing books for you to read.  (Adapted from Penny Sansevieri's "5 Quick Ways to Help Your Favorite Author"–Author Marketing Experts.)
Best advice for writers: Write, write, write.
"Better to write for yourself and have no public, than write for the public and have no self." – Cyril Connolly
"…maybe I should study the market and try like hell to tailor something which fits the current styles. But it seems to me that, if I am to turn out work of (fairly) permanent value, my own taste…is what I must follow." – Robert A. Heinlein
"I always thought life is like fighting: you keep battling to get a little respect." – Rocky Balboa
"I do not over-intellectualize the production process.  I try to keep it simple:  Tell the damned story."  – Tom Clancy.
Think of yourself as an Irish bard telling your story accompanied by a lute.  Your audience is your main concern. Nowadays you have to do many things besides write, but never forget your readers.
Favorite places: NYC, 'Frisco and Napa/Sonoma, Inner Passage (Alaska), Dublin, Cork, and Galway.
Favorite causes: Most anything environmental, including The Nature Conservancy; reasonable gun control; and people's rights.
Favorite foods: Fajitas, nachos, churrascos, stuffed grape leaves, almost any curry, vegetable samosas, pumpkin and mincemeat pie, and apple and peach cobbler.
Favorite beverages: Jameson whiskey, Guinness beer, Smithwick and Killian ales, Californian wines, Australian shiraz, and Colombian coffee.
Favorite books: See my webpage "Steve's Bookshelf."
Contact:  See the contact page; or use Facebook or Goodreads.
The Long Version
Dear Reader,
Do you like thrillers and suspense?  Mysteries?  Cops and Feds catching terrorists, serial killers, and psychos?  Reading about forensics specialists and medical examiners at work and play?  What about science fiction? Androids, aliens, clones, mutants, and artificial intelligence? I can't get enough of this stuff either, so my own fiction often cuts across some or all of these genres. I like to think of writers in these genres as clouds raining down entertainment upon their readers. When I was a little tyke, I loved to get soaked and splash in the puddles, so I want to be a cloud for readers too—to return some of that joy.
The great American author Kurt Vonnegut wrote a great big little book not long ago. He called it A Man Without A Country. Although he meant something different, that's almost me, folks! I was born and raised in California—the Big Valley, to be precise, the richest agricultural area in the U.S. I wasn't much of a farmer, though, so I reversed the adage "Go West, young man" by spending twelve years in South America before settling in the Northeast. I knocked around a few universities and colleges along the way—East, West, Midwest, and South America. I won't bore you with more details about my youth—there are better aids for curing your insomnia.
My interests would probably make any liberal arts program proud, I suppose; they range from humanities-oriented subjects like art, music, drama, poetry, and prose (I can create in one of these) to scientific subjects like forensics, robotics, genetics, math, physics, and scientific ethics.  All these influence  my fiction. I have great fun with the technical stuff—I can give you a short, concise definition of entangled quantum states, for example, which are important for quantum computing and keeping physicists busy—but I must confess that the human condition fascinates me more. Even science and engineering is a human pursuit—I bet that some of my old colleagues would be uncomfortable knowing how much attention I paid to those human interactions in meetings and research groups while mostly ignoring their dry, erudite presentations! I put much of what I glean by observing people into my characters (if we've met, don't worry—they're generally a blend). Moreover, even though fictional, I still strive to make them believable and interact realistically, even in unfamiliar or other worldly settings.
My people-watching is international. I spent twelve years working in Bogota, Colombia, as professor and researcher. Those years, together with many trips around South America and Europe, gave me an appreciation for different groups of people and their cultures that influences my fiction. It also allowed me to spice up the settings of my stories—although, with Google Maps, it's hard to say nowadays where the author has been! My appreciation for cultural diversity also provided me with a unique perspective on our great and wonderful melting pot, the United States of America (and that's why I'm not a man without a country!).
As a consequence, I love to hear from readers and writers around the world. I welcome questions about my short stories and novels and anything else you might find on my website—my book reviews, blog posts (Vonnegut's style in A Man Without a Country is my inspiration), or other subjects that cross your mind and I can write about (don't ask me about recipes, for example—I'm not good at cooking, just eating). You can write me in English or Spanish. (While I can struggle with a few other languages, I'm most comfortable with those two.)
You might have noticed that my picture on other websites, as well as in the back of my ebooks and on the back covers of my pbooks, is taken with dark glasses. (I'll have to change that someday, maybe when I get a leather jacket like Lee Child's?) To compensate, I thought of including my baby picture here, but I decided against that (I can almost hear the sighs of relief). When my wife and I were touring Ireland, we were very lucky—it was sunny and cheery except for one day. Consequently, here I let you see the face behind the dark glasses—and my predilection for Irish brews (Guinness stout, Smithwick's and Killian's ales, and Jameson's whiskey are favorites). As an ex-Californian, I'll also pound my chest a little and proclaim that the best Californian wines are unbeatable. However, I've recently developed a fondness for Australian shiraz and other reds.
Before you start to think that either I'm a hopeless sot or an incurable bon vivant, let me refrain from discussing my favorite foods and say that you should take a peek at some of my favorite books—reading is what this website is all about. You're a reader, or you wouldn't be here (especially if you've read this far!).
As readers, you and I can visit the marvelous worlds of the written word—everything from the great religious documents like the Bible, the Koran, and the Hindu and Buddhist texts; to the classics like Tale of Two Cities, Don Quixote, and Les Miserables; to the great twentieth century writers like Hemingway and Garcia Marquez; to the world of suspense, mystery, and thrillers with authors like Baldacci, Child, Deaver, Eisler, P.D. James, and Land; to the world of sci-fi and fantasy with authors like Asimov, Heinlein, Tolkien, C. S. Lewis, and Rohling; and to this wonderfully modern digital revolution that is now reshaping the publishing industry, where so many books are produced each year that it would take us forever just to look at the covers.
It's an amazing and wonderful time for readers—enjoy it! Take advantage of it!  I certainly do. Kurt Vonnegut considered writing and reading an entertainment business. Let's all soak ourselves in that entertaining rain.
Warm regards,
Steve