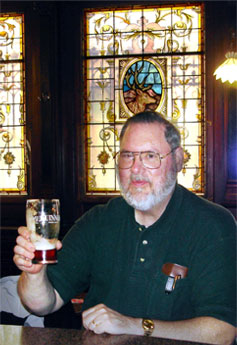 Steve in Ireland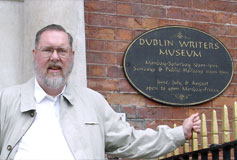 Steve at Dublin Writers Museum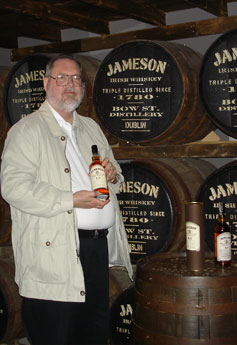 Steve at Jameson Factory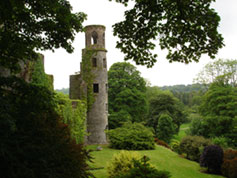 Blarney Castle, Ireland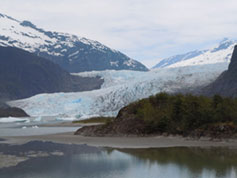 Mendenhall Glacier, Alaska
Dear Reader,
I'm a native Californian. That diverse state taught me to appreciate people's cultural heritage while knowing in my heart we're all in this together. I spent many years in academia and scientific R&D in the U.S. and abroad, doing the reverse migration from the West to East Coat of the U.S. via South America while I postponed my goal of becoming a writer in order to put bread on the table for my family. I've been a full-time writer for more than ten years now.
California primed my ear for Spanish, but I learned to speak Castellano during my long sojourn in Colombia, South America. I have something of a knack for languages, but Gaelic defeated me, so all I can say in reference to some of those pics at the right is, "Sláinte mhaith," and wish you many years of good reading entertainment.
My writing goal is always to entertain you with my stories. I've been writing for years, even before I published anything, but ignore the gray beard–I'm young-at-heart. No one has seen what I write until recently, so you're in luck–it's all fresh and new. Be entertained. If you love to read mysteries, thrillers, and sci-fi as much as I do, you'll feel at home here.
Some say I have a varied and interesting past, but I'm just a nerdy author and otherwise regular guy now living in New Jersey. You can get to know me best by reading my books. They reflect some of my lifetime of collecting what-ifs, plot ideas, character sketches, and possible settings that often correspond to my living and traveling abroad and meeting different people and experiencing their cultures.
So join me: there's a lot of reading to be done…and so little time to do it!
In libris libertas!
Warm regards,
Steve
Best advice for readers: Read, read, read.  I'm toasting you with that Guinness and offering you that bottle of Jameson Irish whiskey! Get comfortable and enjoy a good book. Readers rule.
Help your favorite authors: (1) Buy their books.  Many indie writers use the same business model I do.  (I've been doing this long enough that maybe I invented it.)  That means "crowd funding" for their next books, and you can help create the crowd.  And, if your favorite authors are traditionally published (I'm a mongrel now, having done both), this is all still valid. Authors and publishers are encouraged to publish more books when people buy them. (2) Review their books.  A simple review saying what you like and dislike about a book and why helps both readers and the author. (3) I don't use Twitter, but no author minds if you shout out your love for one of their books. And follow them and share on social media. The internet is the modern version of word-of-mouth advertising.  Create an internet avalanche for your favorite author–maybe on Goodreads? (4) Recommend them to friends and family. That might be via the internet too, but your word-of-mouth means more to them. (5) Offer to help.  An East Coast author can't donate books to a public library on the West Coast, for example, and national and international exposure helps that author.  With these actions, your favorite author can keep producing books for you to read.  (Adapted from Penny Sansevieri's "5 Quick Ways to Help Your Favorite Author"–Author Marketing Experts.)
Best advice for writers: Write, write, write.
"Better to write for yourself and have no public, than write for the public and have no self." – Cyril Connolly
"…maybe I should study the market and try like hell to tailor something which fits the current styles. But it seems to me that, if I am to turn out work of (fairly) permanent value, my own taste…is what I must follow." – Robert A. Heinlein
"I always thought life is like fighting: you keep battling to get a little respect." – Rocky Balboa
"I do not over-intellectualize the production process.  I try to keep it simple:  Tell the damned story."  – Tom Clancy.
Think of yourself as an Irish bard telling your story accompanied by a lute.  Your audience is your main concern. Nowadays you have to do many things besides write, but never forget your readers.
Favorite places: NYC, 'Frisco and Napa/Sonoma, Yosemite, Inner Passage (Alaska), Dublin, Cork, Donegal, and Galway.
Favorite causes: Most anything environmental, including The Nature Conservancy; reasonable gun control; and people's rights.
Favorite foods: Fajitas, nachos, churrascos, stuffed grape leaves, almost any curry, vegetable samosas, pumpkin and mincemeat pie, and apple and peach cobbler.
Favorite beverages: Jameson whiskey, Guinness beer, Smithwick and Killian ales, Californian wines, Australian shiraz, and Colombian coffee.
Favorite books: See my webpage "Steve's Bookshelf."
Contact:  See the contact page; or use Facebook or Goodreads. I love to discuss books and the publishing business. Don't be shy. Much of my social life is on the internet!